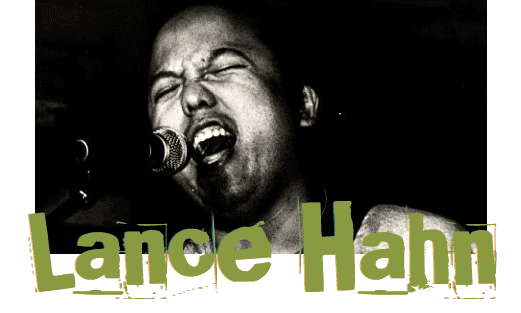 Lance passed away on Sunday, October 21, 2007, due to complications from kidney disease. He was much-loved, and his friends and family planned memorials in San Francisco, California, and Austin, Texas, the details of which are posted below.
Lance on Video
An interview:

Cringer live "Pay to Play":

Cringer live "Confessions":

Cringer live "Hooked on Junk":

As guitarist for the Filth cover band:

J Church live "My Favorite Place":

Cameo in trailer for Scumrock (Moritsugu film):

Remember Lance
Please share your rememberances of Lance at lancehahn.blogspot.com, and share your photos at the Lance Hahn flickr group, or submit them to memorial@lancehahn.org.
San Francisco Memorial: November 11, 2007
Friends of Lance in San Francisco gathered at the Hemlock Tavern from 6 PM - midnight in the music room.
Austin Memorial: November 18, 2007
The Austin Memorial tooko place from 4–8 PM on Sunday, November 18, at The Mohawk, 912 Red River.
Both memorials were loving events packed with people missing and remembering Lance. Many great Lance stories were told, laughs shared, tears cried. Old friends, new friends, family, co-workers, and fans all came together to celebrate Lance. The events were beautiful, sad, wonderful gatherings ... testaments to the amazing human being that was Lance Hahn. We hope he would've had a blast at them.
This page was last modified June 03, 2008. Photo of Lance by Dave Deluxe.
Memorial posters designed by John Yates.